On the ClassicBattletech.com home page I noticed THIS Coming Soon banner: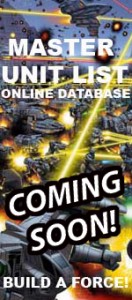 Now THIS is online support that is awesome, if it it's as cool as I can imagine it to be. I've created my own BattleTech Lance Creator, but if they make one that I don't have to maintain and work on I'm ALL for it… in fact I'd love to help them develop it.
You can get the Master Unit List PDF for free from here.
Exciting times!