My Terrain Board WIP
Some may think that I gave up after my dismal show up for BattleTech demo day last week. Oh no. I'm still playin'!
I've got 13 of the big hexes ("main boards") done and I'm starting to work on the hills (and eventually the water on some of the main boards). Mind you this is all from just ONE of the 4′ by 9′ foam sheets. I still have 2 more.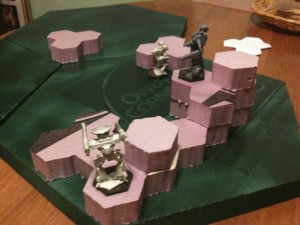 I'm enjoying it, and it's fairly therapeutic except for the smell and bending over to see the cuts.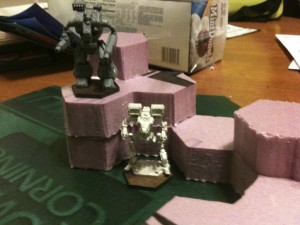 My next steps will to be to paint the ground and the sides of the hexes (a rock look probably), and to glue the hill hexes down on the main boards where proper. I've still got some cleanup to do on those hills after the glue dries, but I'm certainly keeping the rough look as it'll be easier to drybrush details for more of a cliff-face look.
The Online Master Unit List
Skyhigh from The Classic BattleTech Forums is either a contract or in-house programmer for Catalyst (I think), and he's been doing a GREAT job putting the Master Unit List online for EVERYONE to use. I'm very proud for him, I'm sure it's been a daunting task living up the the expectations of his users. With the latest addition of Piloting & Gunnery skills my little Lance Maker is no longer needed and I've got a link at the top for everyone to use the official Unit List instead of mine at the previous link.
Way to go Skyhigh!